APL helps Terrinnov with integrating a data center that will heat the Ferney-Genève Innovation district
APL, data center expert, was commissioned by the local public company Territoire d'Innovation (Terrinnov) to assess the opportunity of setting up a data center whose waste heat will supply an anergy network to heat residential and commercial buildings in a new district. Located on the Franco-Swiss border, this new economic development zone, with low environmental impact, is part of the Greater Geneva project.
The Community of communes of the Pays de Gex (Ain) has been entrusted by Terrinnov to develop a 65-hectare mixed development zone in the Ferney-Voltaire commune, in the immediate vicinity of the Geneva international airport, the international organizations district and CERN, European Organization for Nuclear Research. 
Technological innovations to reduce environmental impact
To cover the energy needs of the new district, Terrinnov is committed to creating an anergy network to ensure energy is provided to the buildings. Unlike conventional heating networks, the anergy network is a decentralized and multidirectional energy production system which allows the exchange of energy between buildings by storing it in geothermal probes in summer and redistributing it during high-demand periods in winter. The overall energy balance will be maintained through a connection to CERN, but also through building a data center whose waste heat will be recycled. The Ferney-Genève Innovation district plans to obtain the "Positive Energy Territories" label and therefore wishes, via this network, which will be integrated into a smart grid, to increase the share of renewable energy and reduce the carbon emissions of the future district. This urban project demonstrates APL's "Organic Design" approach, whose objective is to create data centers in symbiosis with their environment.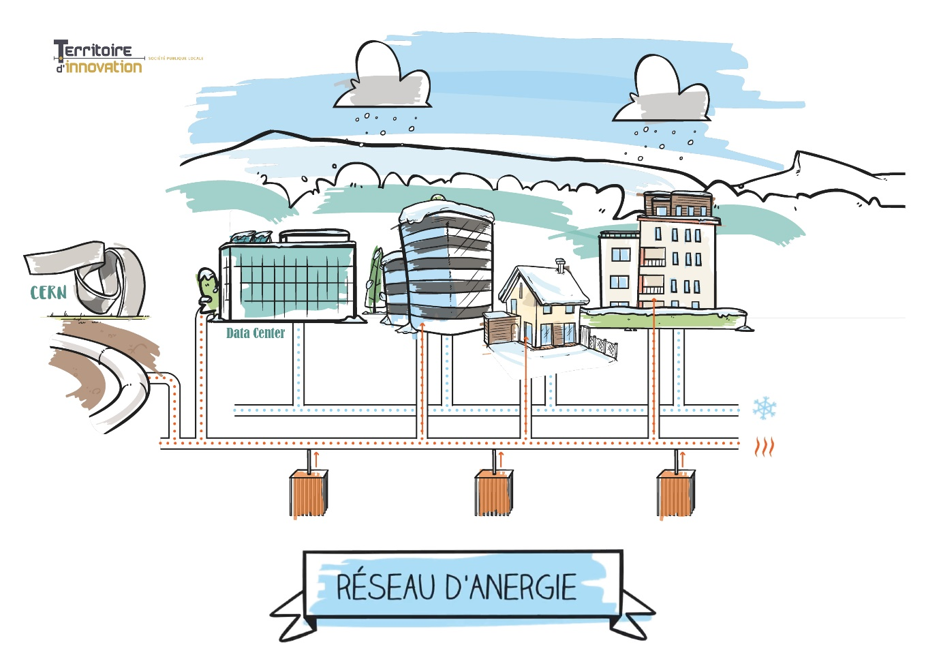 A new data center, digital and power plant in the region
To carry out this project, Terrinnov has launched a study, conducted by APL, to assess the technical and economic opportunity of setting up a data center in the Ferney-Genève Innovation district. The conclusions confirmed the potential demand related to the provision of cloud services and IT hosting in an area nearby major stakeholders in the regional economic fabric. APL recommends the construction of a moderate-sized data center (with a surface area of 900 m²), so that its occupancy rate is sufficient to cover the needs of both the anergy network and future data center customers. The data center, with very high service continuity, will be integrated into a mixed-use building with a system for recovering waste heat. Its technical equipment will enable it to provide hosting services and be designed to achieve TIER III redundancy, while, in terms of energy efficiency, its target PUE will be under 1.3. With this first step complete, APL is currently reviewing the applications of hosts and customers interested in this data center, since Terrinnov needs hosting professionals to operate this data center.